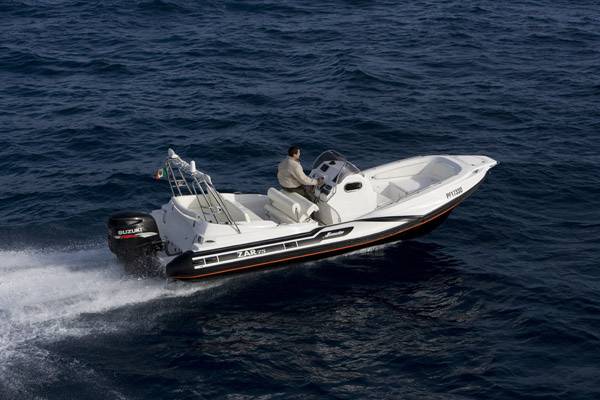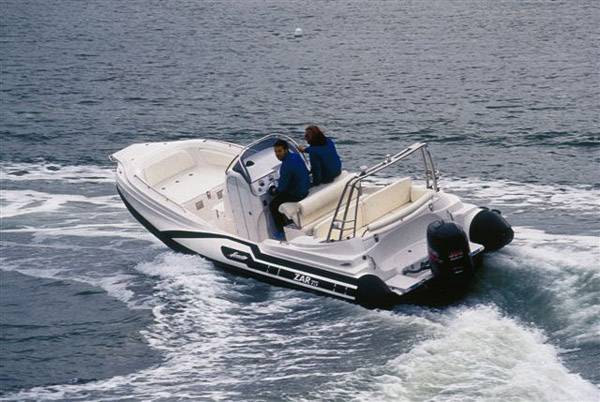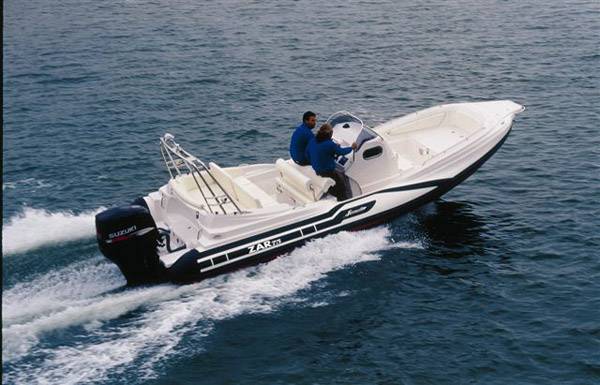 Features
3 rows that can seat 10 persons forward running
anchor forepeaks and afterpeaks
back peak with the mooring accessories
front sun bathing bed convertible into a double bed (cm 160 x 230) with extensions as an optional
wide stem dinette with a table as an optional
wide back dinette with a table included (Suite)
175 x 180 back sunbathing bed (with the two back rests in the horizontal position)
two-seater console (that can be located in the middle or on the side of the boat) with a hydraulic wheelhouse, stainless steel rudder, 2 internal watertight compartments with door, an object holder and two peaks under the front seat, wc -as an optional;three-seater multifunctional anatomic driver's couch with double driving position (sitting up and down)
kitchen area under the driver's couch equipped with:sink, mincing board (also utilizable like a place for a mono/double gas ring) and refrigerator special compartment predisposition
bilge pump
8 stainless steel handles for passengers safety
foldaway stainless steel ascent ramp and double VTR bridge
2 stainless steel fuel tanks (about 200+200 litres for Zar 75 and Zar 75 Suite) located under the walk floor according to standards
1 stainless steel fuel tank (about 200 for Zar 75 Plus and Zar 75 Suite Plus) located under the walk floor according to standards
6 handling handles
4 stainless steel bollards;perimetric double millpond
polished stainless steel 9 Kg anchor
anchor-winch nose with stainless steel bow
3 stainless steel eyebolts for hangers
Optional Equipment
Stainless steel roll-bar with fibreglass bases
Roll-bar installation with running lights,anchorage lights, horn and wiring
Beacon ready installed on roll-bar/console
Prow sunbed extension each (not for Plus version)
Prow complete table
Auxiliary engine support
Total sheet for night and travelling
Console cover
Seat cover
Electric panel
Shower Complete (for stern and external wash basin) with surge tank, tank in prow, outdoor embarkation and installation
Complete dingy heuling belt kit for launch/accommodation
Anchor windlass installed with motor, cable, chain and double controls (in console and anchor housing)Wake board kit complete with counterplates
Left stern deck with folding ladder (single and double engine)
Right stern deck (single and double engine)
Modification kit from Zar 75 to Zar 75 suite
Modification kit installation from Zar 75 to Zar 75 suite
Console change kit from ZAR 75 to ZAR 75 plus
Installation console change
Electric refrigerator (12/24V)
Flexi-teak for cockpit
Flexi teak for the bridges + covers (4pz)
Flexi teak for the bridges (2pz)
Flexi-teak installation
Nautical camping tent
Sunroof 3 arch
Rear telescopic sun-cover for roll-bar
Prow sunroof (rear telescopic sun-cover extension)
Pair of canopies (dx-sx) for telescopic sun-cover
Pair of canopies (dx-sx) for prow sun-bathing bed extension
Technical Data
Static self emptying
Homologation "CE cat. "B"
Length m 7.42
Width m 2.82
Internal walking length m 7.35
Internal walking width m 2.20
Intertubular width m 1.68
Tubular diameter cm 58
tubular compartments n. 6
Seating capacity n. 14
Net dinghy weight kg 1,100(with standard equipment, without liquids and motor) ± 10% variable datum
Maximum power applicable kW 225 / HP 300
Minimum power applicable (minimum performance) HP 130
Power recommended (average performance) HP 150/250
Engine shaft length XL
weight installable motors kg 480
CE certification with "B" design category and CE type testing. (A+a form).
Further Accessories Only For Plus Version
Electric sea WC with installed direct discharge
Electric sea WC with installed black water tank
Console cover
Shower (for stern external wash basin and bathroom in console) complete with autoclave, tank in prow, outdoor embarkation, discharge pump and installation
Prow sunbed extension each (for Plus version)
Installation supplementary water tank of about 67 litres
Supplementary 80 lt fuel tank in the bow
Supplementary 80 lt fuel tank installation
8 plug electrical panel