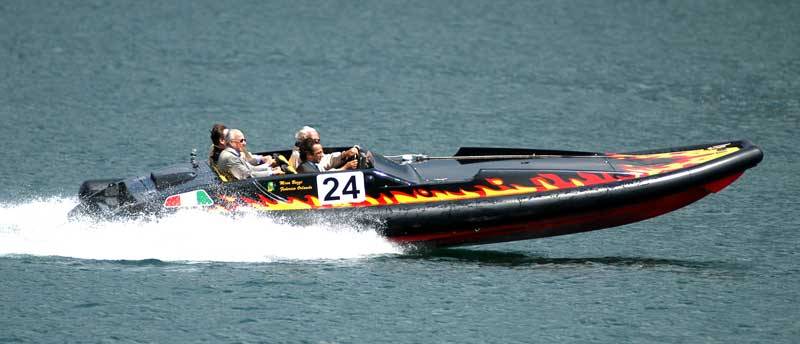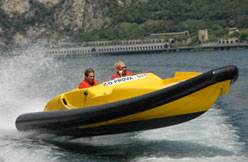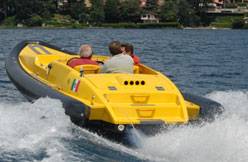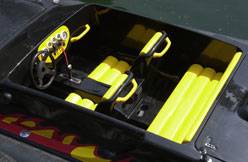 BUZZI 24' RIB
The RIB 24' has been studied in a variety of deck configurations for different missions, with particular attention to crew protection and flexibility of operation ranging from river and costal patrol to interception and hit and run operations.
The stainless steel fuel tank of 200 litres is always positioned in the lowest and central section of the boat enhancing stability (by lowering the C.G.) and giving it some protection from fire arms. Optionally a rubber self sealing tank (aeronautical type) can be installed and the tank further protected with ballistic panels.
On dependence on the engine selection, the RIB 24' can be fitted with a rear cockpit to accommodate from two up to five operators, and the front cockpit can be built to fit both an operators cockpit and a front rotating seat or just an extended cockpit for carrying additional operators or equipment. The rear cockpit can be fitted with ballistic panels capable of sustaining either 9 Parabellum shots or the standard NATO 7.62 calibre. Due to the very low cockpit, the body of the operators is extremely well protected.
The inflatable collar is divide into 13 separate sections and its main purpose is to provide for additional exceptional stability and rough water handling, but as per all FB DESIGN boats, the RIB 24' is fully floatable and can navigate even without the collar. Substitution of the collar is immediate thanks to the rails to which it is attached to the boat.The reduced dimensions allow for up to two boats to be carried inside a 40' feet container (no trailer - one over the other), and to be easily inserted inside the C130 aircraft with trailer for transportation or without for air dropability.
Optional Features
Diesel Engine With Water Jet
One Outboard Engine
2 Outboard Engines
Extendable Radar Arch
Radar With Radome Antenna
Gps Map Chart
Echo Sounder
Hardtop
4 Front Cushions
Water Tank
Front Cover Hatch
Anti Fouling
Rear Cover Hatch (unmanned)
Standard Features
Mercury Waterjet
Sliding Hypalon Collar
Console With Instruments
Navigation Lights
Magnetic Compass
Steering System
Foot Throttle
2 Seats
Battery System
Electrical Bilge Pumps
Manual Bilge Pump
Fire Extinguisher
Navigational Equipments
Anchor
Lifting System With Belts
Cradle
Specifications
Length Overall - 7.49 m / 24' 7''
Max Beam With Inflated Collar - 2.57 m / 8' 5''
Max Beam With Deflated Collar - 2.21 m / 7' 3''
Draft - 0.4 m / 16''
Displacement Empty/Dry - 1100 Kg / 2425 lbs
Displacement Full Load - 1880 Kg / 4144 lbs
Max payload including fuel - 540 Kg crew + 240 Kg fuel = 780 Kg / 1190 lbs crew + 530 lbs fuel = 1720 lbs
Inboard Engine - 1 x Mercury Jet 250HP, speed in lightship 48 kn
Outboard Engine - 1 x 300 HP, speed in lightship 58 kn
Fuel Capacity - 290 l petrol / 77 US gal
Max Person Capacity - 6
Max Hp / Max speed -1 x 300 HP O.B., 48 kn
Min Hp / Max speed - 1 x 200 HP O.B., 40 kn
Range at 35 knots - 160 nm
Design Category - B ISO 6185-III